Courtesy Larry Kreisman, Historic Seattle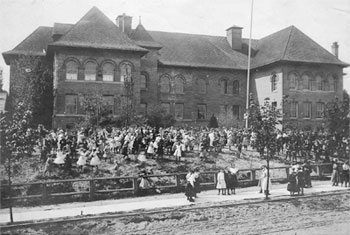 Construction of the Queen Anne School began in 1895, designed by Warren P. Skillings and James M. Corner, in the popular Richardson Romanesque style. Classes opened in the fall of 1896. In keeping with the original expandable design, as the neighborhood grew, so did the school, and classrooms were added in 1899 and again in 1902.
The school's original entrance was on the south side facing Lee Street. Following the addition of ten classrooms and an auditorium on the south end in 1916, the main entrance was moved to the north-end on Galer Street.
The last major addition to the school was the principal's office in 1920 located at what is now the southwest corner of the circular driveway.
In 1908 the name of the school was changed to West Queen Anne Elementary School to avoid confusion with Queen Anne High School, then being constructed.
In 1974, Seattle School District staff recommended closing the school due to declining enrollment. A grassroots movement of parents, teachers and local residents worked together to keep the school open. Part of that effort was nominating the building for historic status. In 1975, the structure became the first Seattle school placed on the National Register of Historic Places thus ensuring the building's preservation. Two years later it became a City of Seattle landmark. The school remained open until 1981.
In 1983, the Seattle School District gave Historic Seattle, a public development authority for historic preservation, a 99 year land lease on the school's 1.76 acre property, with an option to renew for another 99 years. Historic Seattle conveyed the building and land lease to West Queen Anne Associates, a limited partnership formed for the express purpose of building renovation. In 1983, the firm of Cardwell/Thomas and Associates, Architects began the process of renovating the school into forty-nine condominium units. Its conversion from classrooms to condominiums in 1984 was the largest privately financed rehabilitation and reuse project of its type in the Northwest and has become a national model for salvaging surplus schools.
Related links
http://commons.wikimedia.org/wiki/Category:Queen_Anne_Public_School
http://www.archiplanet.org/wiki/Queen_Anne_Public_School
http://www.seattleschools.org/area/historybook/west-queen-anne.pdf
http://en.wikipedia.org/wiki/Queen_Anne,_Seattle,_Washington
http://www.historicseattle.org/
http://www.seattle.gov/neighborhoods/preservation/landmarks.htm